Easter weekend in Cinque Terre, Italy
Four days in Italy is never enough, especially when the drive there and back is 6+ hours each direction. Easter traffic is The Worst. But once you get there, all is forgotten as you eat your gelato in the sun by the seaside. Since Switzerland includes Good Friday and Easter Monday as national holidays, we escaped (leaving at 6am on Friday morning) for a long weekend to the Cinque Terre region of Italy. Comprised of five small villages (Riomaggiore, Manarola, Corniglia, Vernazza, Monterosso al Mare) along the Mediterranean, it's a super picturesque area and super popular with tourists.
Even though we booked our hotel over 2 months ago, almost everything was sold out (like I said, popular tourist destination). We ended up staying at Villa Accini in Monterosso al Mare, which is really the only village you can access by car. The others can be reached only by train, boat or hiking – and we did all three.
Saturday
Despite the perfect sunny weather when we arrived on Friday afternoon, we woke up to rain and clouds on Saturday. We had originally planned to take the train to Riomaggiore (the farthest away village) and hike the seaside trails all the way back to ours. In good weather this should take about five hours. However, the first two sections of the trail were closed for maintenance and the rain gave us a good excuse to split up the village visits over two days anyway.
So we still took the train to Riomaggiore and spent some quality time exploring the marina area in the rain. Even in dreary weather, it's still a very charming and romantic village. It was actually quite peaceful and we were able to find a great stone beach all to ourselves. We had lunch at Rio Bistrot, which had a nice view of the harbor (through the drizzle). It seems like almost every single restaurant in this region has the exact same menu: trofie with pesto, seafood spaghetti, minestrone soup, and fish of the day - over the course of four days, I had tried all at least once. After lunch we took the train to the next village, Manarola. I found this one to be exceptionally cute and really enjoyed wandering around. We walked up to the top for some great views and a great wine shop. Since the weather was clearing a bit, we decided to take the boat back to our village, which was a nice change from the train.
Dinner Saturday night was at the well-known Ristorante Miky, one of the few Michelin-starred restaurants in Monterosso al Mare. We sat outside and enjoyed people watching throughout our three courses. I started with the artichoke and pumpkin ravioli and Warren had the gnocchi in truffle sauce. Both were amazing, but I think I actually preferred Warren's the best – luckily he shared. For the main course I went with the lamb and Warren had the beef filet. And of course we saved room for dessert – I had the cheesecake (homemade and sooo good) and Warren had the chocolate soufflé (the perfect combination of warm and gooey!). It was a great meal after a day of tramping around in the rain.
Sunday
On Easter Sunday we woke to perfect sunny skies and warm weather again – let the hiking commence! We took the early train to Corniglia to have breakfast at Caffee Matteo, which had been recommended to us. After the boring continental breakfast the day before at the hotel, this was a wonderful treat of scrambled eggs, bacon and fine Italian coffee. Then we began the 1.5-hour hike to Vernazza. The hike itself is steep, but not overly challenging, as long as you're wearing good shoes and bring water. We saw the most crazily-dressed hikers, including a guy wearing only a speedo. Seriously, he had no shirt or shorts, just a speedo and big hiking boots. We also passed a group of three blind men; I'm not sure how they could enjoy such a hike unable to see the hundreds of steep steps to climb. People are strange.
We arrived in Vernazza just in time for lunch, along with the rest of Europe. It was incredibly crowded. We barely even found a restaurant at which to eat. It seemed everyone else knew to reserve a table in advance, so by the time we arrived there was nothing available. But it doesn't really matter since they all serve the same food anyway (today's trofie with pesto wasn't quite as good as yesterday's). Vernazza was really pretty and had another cool stone beach, but just too many tourists for me to really appreciate it. We got some good photos as we left (the classic Cinque Terre view) and began the second 1.5-hour hike back to Monterosso al Mare.
The entire hike is really scenic, following the seaside, but constantly climbing up and down through the forest. Certain areas are really tight and difficult to pass through when other hikers are coming from the opposite direction. But I'm really glad we did it, and especially on a sunny day. To hike the trails you have to pay 7.50 EUR per person to get a trail pass, so as we finished, we donated our passes to another couple about to start. Easter good deed of the day. Then when we got back to our village we celebrated with our first well-deserved gelato of the trip.
Dinner Sunday night was at L'Ancora della Tortuga, which is a restored World War II bunker and a really unique location right on the water. We lucked out with the best table outside and an amazing sunset view (I told Warren it was the good karma from giving away our trail passes). It was by far the BEST meal and restaurant location of our weekend. Seriously, other tourists were stopping to take a picture of our table (I'm sure they tried to crop us out), because it really was so perfect looking (check out my instagram for more photos). I started with the pesto risotto with prawns and Warren had the ravioli with ragu sauce. For our main courses with both ordered the fish of the day, served Ligurian style, which means with tomatoes, potatoes, olives and pine nuts. Everything was fantastic and enhanced by such a gorgeous setting. We ordered dessert and coffee purely just to stay and enjoy the view longer. I could have stayed there all night!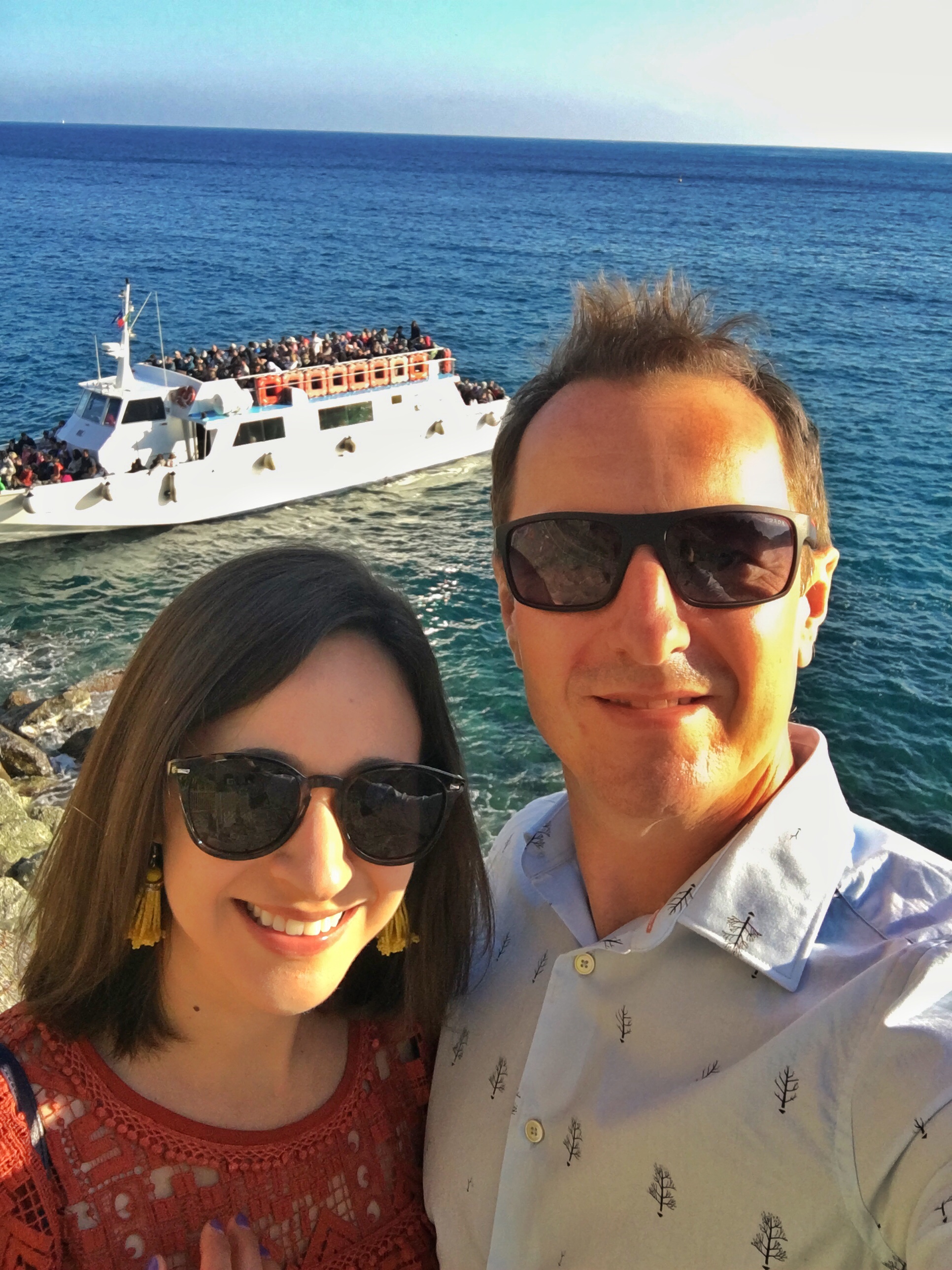 Monday
And just like that the weekend is over. Monday morning we decided to have breakfast in Rapallo as the first stop on our long drive home. It's another seaside town and to be honest it really wasn't anything special, but we did enjoy our brioche and coffee in the sun at a beach-side café. To avoid the dreaded Milan and Gotthard-tunnel traffic, we decided to drive straight north and cross the border in Iselle. It still took forever, but at least the sun was shining and we listened to my iTunes playlists (Warren has the worst combination of Christmas music, German podcasts and angst-fueled crooners that send you into immediate depression). I'm happy to report we made it home with minimal road rage and during daylight hours (albeit to rain). Till next time Italy!